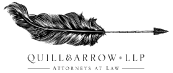 So, Your Vehicle Sucks, but what can you do about it?
If you're fed up with constantly having to bring your car, truck, or SUV in for repairs, we're here to help!
At Quill & Arrow Law, we specialize in helping vehicle owners get the compensation they deserve for their defective lemons.

Does your vehicle shake, make weird noises, or seem to have a mind of its own?
Multiple repairs that don't seem to fix anything?
Did you buy it here in California from an authorized dealer?
If your new, used, or CPO vehicle spends more time in the shop than on the road, it's probably time to give us a call.
We can help turn your vehicle from a pain in your rear to money in your pocket!
You could be entitled to:



The Process is Easy and Stress-Free
At Quill & Arrow Law, we make the process of pursuing a Lemon Law claim easy and stress-free. Here's how it works:

Step 1
Contact us:
The first step is to get in touch with our team of experienced Lemon Law attorneys. You can call us or fill out our online contact form to get started.

Step 2
Consultation:
During your consultation, we'll discuss the details of your case and determine if you have a valid Lemon Law claim. There is no cost for this consultation and you are under no obligation to move forward with a claim.

Step 3
Representation:
If we determine that you have a valid Lemon Law claim, we'll offer to represent you on a contingency basis. This means that our fees are paid by the manufacturer, not you, the vehicle owner.

Step 4
Negotiation:
Once we take on your case, we'll handle all communication with the manufacturer and dealership on your behalf. We'll negotiate a settlement on your behalf to get you the best possible outcome.

Step 5
Resolution:
If we are able to reach a settlement, we'll work with you to ensure that you receive the compensation you deserve. If we are unable to reach a settlement, we may need to take your case to court.
How much will this cost me?
All our fees are paid by the manufacturer, so it costs you nothing to get started
Even the consultation is free, so what are you waiting for?

Let's get you compensated!
Call us or fill out the form today!
By clicking 'Submit,' I agree to receive text messages from Quill & Arrow Lemon Law and its affiliates. I provide my express consent to be contacted from Quill & Arrow Lemon Law or its business partners at the number provided regarding products or services via live, automated and/or prerecorded telephone call, SMS text message, or email. Message and data rates may apply. I am not required to enter into this agreement as a condition of purchasing property, goods, or services. I understand that I can revoke this consent at any time. Terms & conditions/privacy policy apply.